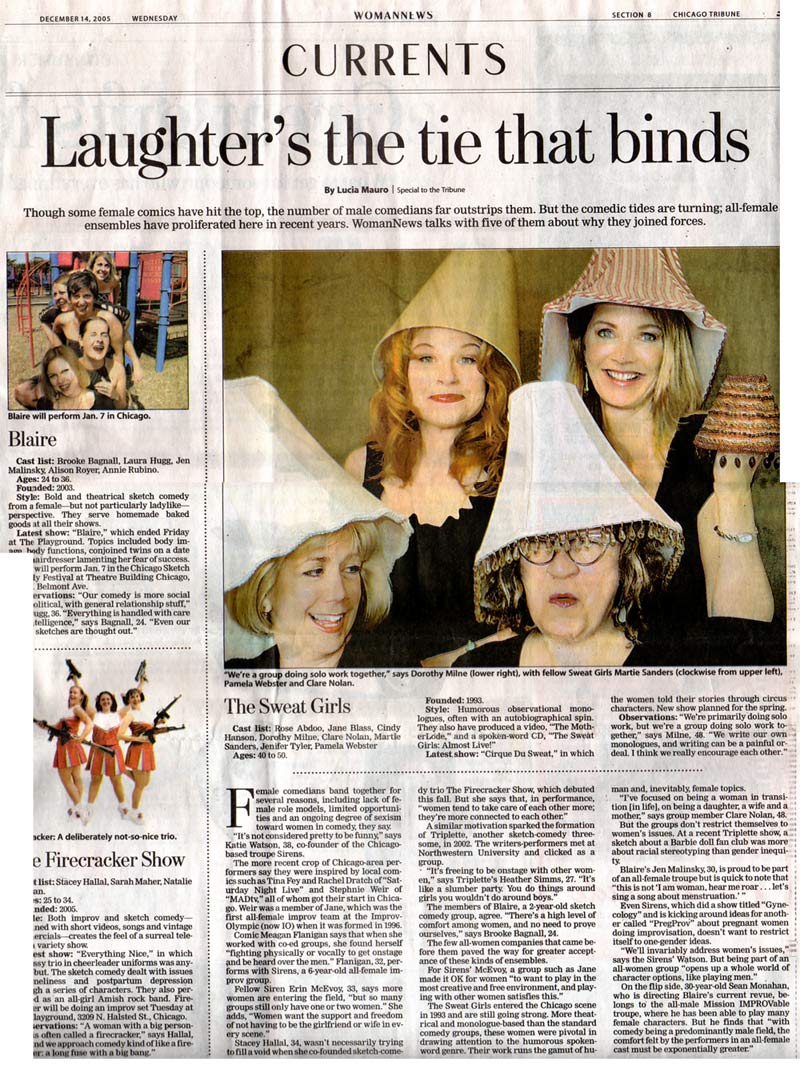 Chicago Tribune (excerpt), December 14, 2005 by Lucia Mauro
Laughter's the tie that binds
Though some female comics hit the top, the number of male comedians far outstrips them. But the comedic tides are turning; all-female ensembles have proliferated here in recent years. WomanNews talks with five of them about why they joined forces.
…The Sweat Girls entered the Chicago scene in 1993 and are still going strong. More theatrical and monologue-based than the standard comedy groups, these women were pivotal in drawing attention to the humorous spoken-word genre. Their work runs the gamut of human, and inevitably, female topics.
"I've focused on being a woman in transition (in life), on being a daughter, a wife and a mother," says group member Clare Nolan, 48.
Style: Humorous observational monologues, often with an autobiographical spin. They have also produced a video "The MotherLode," and a spoken-word CD, "The Sweat Girls: Almost Live!"
"We're primarily doing solo work, but we're a group doing solo work together," says Milne, 48. "We write our own monologues, and writing can be a painful ordeal. I think we really encourage each other."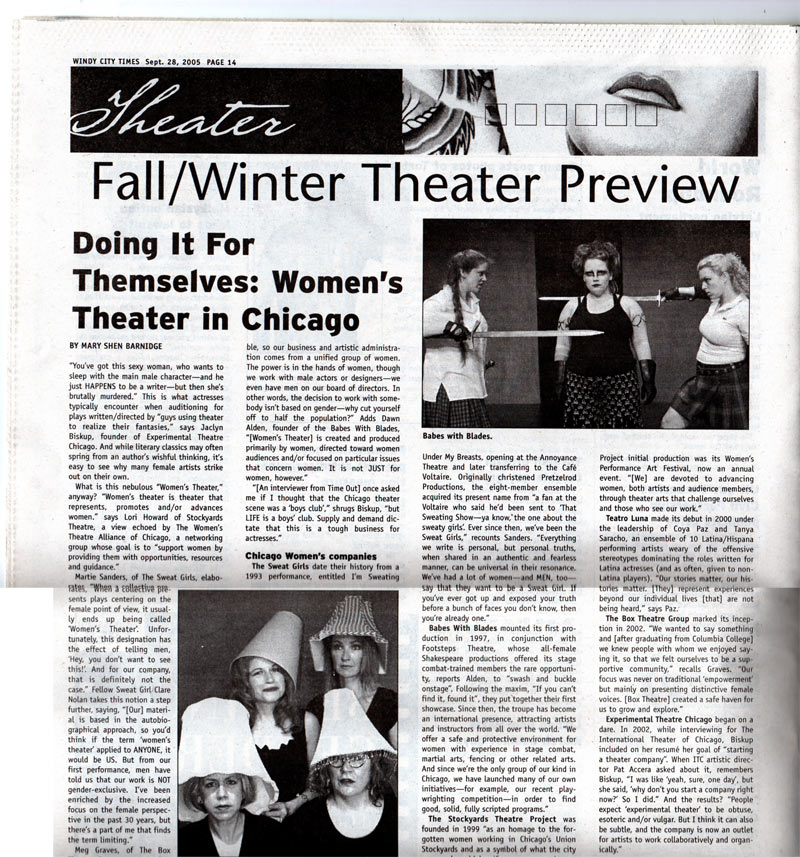 Windy City Times (excerpt), September 9, 2005 by Mary Shen Barnidge
Doing it for Themselves: Women's Theatre in Chicago
…What is this nebulous "Women's Theatre," anyway? "Women's theater is theater that represents, promotes and/or advances women," says Lori Howard of Stockyards Theatre, a view echoed by The Women's Theatre Alliance of Chicago, a networking group whose goal is "to support women by providing them with opportunities, resources and guidance."
Martie Sanders, of the Sweat Girls, elaborates, "When a collective presents plays centering on the female point of view, it usually ends up being called 'Women's Theater.' Unfortunately, this designation has the effect of telling men, 'Hey, you don't want to see this!' And for our company, that is definitely not the case." Fellow Sweat Girl Clare Nolan takes this notion a step further, saying "Our material is based in the autobiographical approach, so you'd think if the term 'women's theater' applied to ANYONE, it would be US. But from our first performance, men have told us our work is not gender-exclusive. I've been enriched by the increased focus on the female perspective in the past 30 years, but there's a part of me that finds the term limiting."
The Sweat Girls date their history from a 1993 performance, entitled I'm Sweating Under My Breasts, opening at Annoyance Theatre and later transferring to Cafe Voltaire. Originally christened Pretzelrod Productions, the eight member ensemble acquired its present name from a "fan at the Voltaire who said he'd been sent to 'That Sweating Show — ya know, the one about the sweaty girls.' Ever since then, we've been the Sweat Girls," recounts Sanders. "Everything we write is personal, but personal truths, when shared in an authentic and fearless manner, can be universal in their resonance. We've had a lot of women — and MEN, too — say that they want to be a Sweat Girl. If you've ever got up and exposed your truth before a bunch of faces you don't know, then you're already one."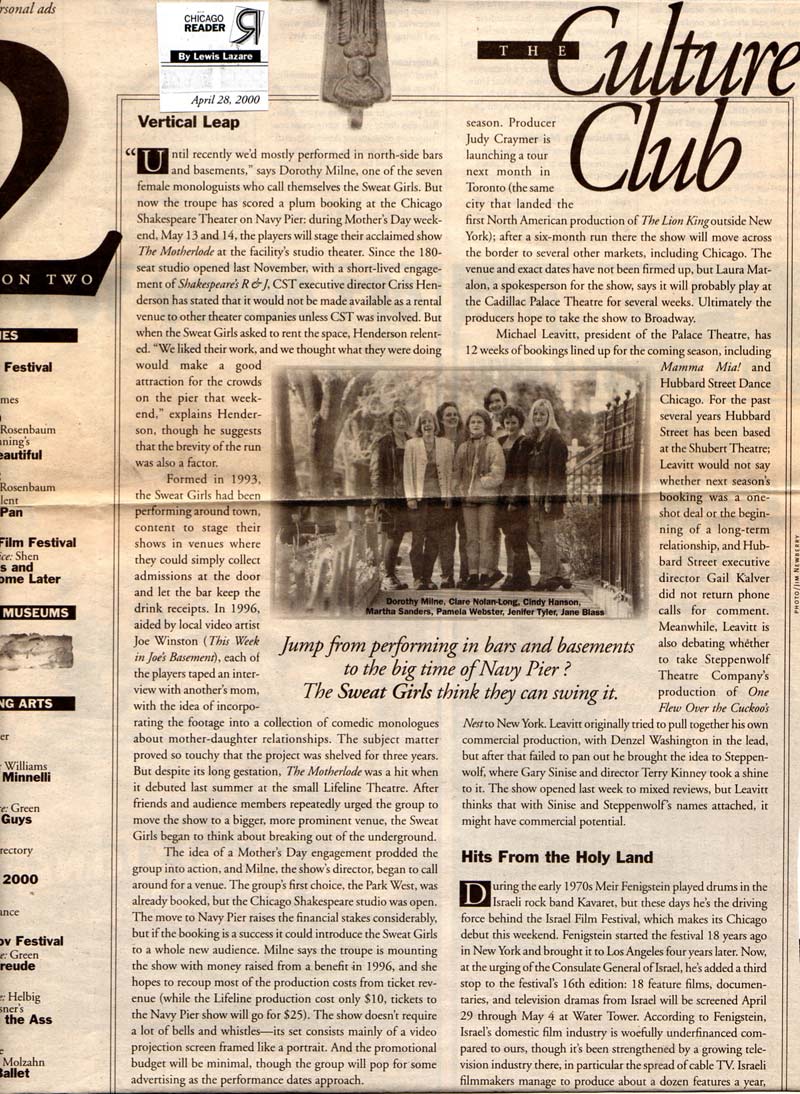 Chicago Reader (excerpt), April 28, 2000 by Lewis Lazare
Jump from performing in bars and basements to the big time of Navy Pier? The Sweat Girls think they can swing it.
Vertical Leap
"Until recently we'd mostly performed in north-side bars and basements," says Dorothy Milne, one of the seven female monologuists who call themselves the Sweat Girls. But now the troupe has scored plum booking at the Chicago Shakespeare Theatre on Navy Pier: during Mother's Day weekend, May 13 and 14, the players will stage their acclaimed show The MotherLode at the facility's studio theater. Since the 180-seat studio opened last November, with a short-lived engagement of Shakespeare's R & J, CST executive director Criss Henderson has stated that it would not be made available to other theatre companies unless CST was involved. But when the Sweat Girls asked to rent the space, Henderson relented. "We liked their work, and we thought what they were doing would make a good attraction for the crowd on the pier that weekend," explains Henderson, though he suggests that the brevity of the run was also a factor.
Formed in 1993, the Sweat Girls had been performing around town, content to stage their shows in venues where they could simply collect admissions at the door and let the bar keep drink receipts. In 1996, aided by local video artist Joe Winston (This Week in Joe's Basement), each of the players taped an interview with another's mom, with the idea of incorporating the footage into a collection of comedic monologues about mother-daughter relationships. The subject matter proved so touchy that the project was shelved for three years. But despite its long gestation, The MotherLode was a hit when it debuted last summer at the small Lifeline Theatre. After friends and audience members repeatedly urged the group too move the show to a bigger, more prominent venue, the Sweat Girls bean to think about breaking out of the underground.
The idea of a Mother's day engagement prodded the group into action, and Milne, the show's director, began to call around for a venue. The group's first choice, the Park West, was already booked, but the Chicago Shakespeare studio was open. The move to Navy Pier raises the financial stakes considerably, but if the booking is a success it could introduce the Sweat Girls to a whole new audience. Milne says the troupe is mounting the show with money raised from a benefit in 1996, and she hopes to recoup most of the production costs from ticket revenue (while the Lifeline production cost only $10, tickets to Navy Pier will go for $25). The show doesn't require a lot of bells and whistles — its set consists mainly of a video projection screen framed like a portrait. And the promotional budget will be minimal, though the group will pop for some advertising as the performance dates approach.
It's like going to a party where all the people there are the kind you dream of meeting at the perfect soiree: interesting stories … engaging … moving … a sense of humor from the get-go.
Unashamed to bare their souls, the Sweat Girls display an easy familiarity that makes their stories intensely human … no matter what the material, these witty and intelligent women consistently amuse and provoke through their invigorating styles.
Once the laughter and applause have faded, the brain remains buzzing, the spirit uplifted. With remarkable confidence and bravery the Sweat Dreamers have learned to laugh at themselves, and by allowing us to laugh along, they educate and enrich.
Taking risks, all over town.